HP Elite t655 Running IGEL Review
17 min read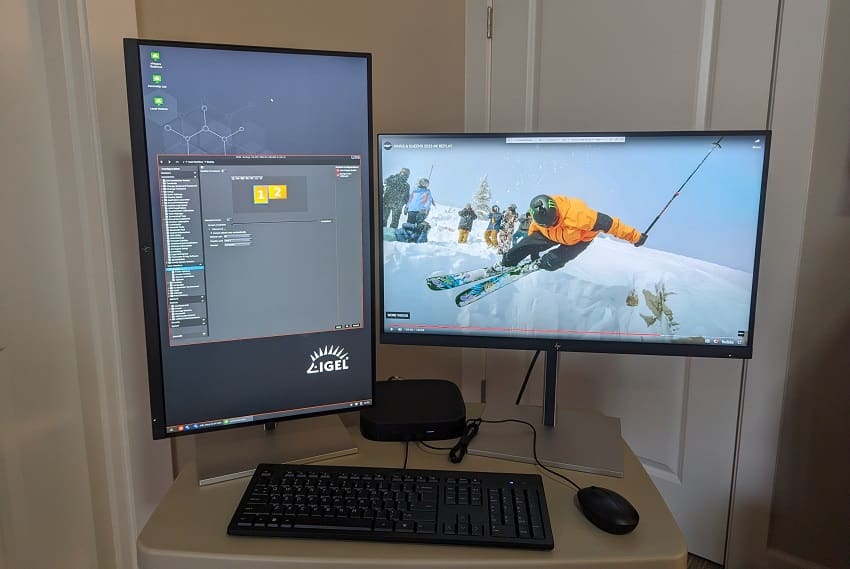 We reviewed the HP t640 thin client a few years ago and found the performance and build quality impressive. It was published just before the pandemic and the massive work-from-home (WFH) revolution, which, in effect, really pushed what we expect from a remote work device. Thin clients have come a long way in the past couple of years, and HP took feedback from their customers to heart. So, we were excited to get the HP Elite t655, its latest business-grade thin client and successor to the t640.
We reviewed the HP t640 thin client a few years ago and found the performance and build quality impressive. It was published just before the pandemic and the massive work-from-home (WFH) revolution, which, in effect, really pushed what we expect from a remote work device. Thin clients have come a long way in the past couple of years, and HP took feedback from their customers to heart. So, we were excited to get the HP Elite t655, its latest business-grade thin client and successor to the t640.
We also reviewed IGEL OS, an operating system designed specifically for thin clients that is very easy to use. However, like HP, IGEL has learned much since the pandemic and implemented new features into its OS based on these lessons.
In this review, we will first look at some of the improvements made in the t655 compared to the t640 and follow that with a hands-on review of a t655 running IGEL OS, an option on many HP thin clients.
Unified Communication and Collaboration (UCC) Technology
During the last three years, it became apparent that users needed the devices that connect to their remote desktops to possess a few key attributes: they needed to be more powerful, greener, and capable of supporting the latest remote desktop technology.
One of the most significant transitions in remote work is the heavy use of unified communication and collaboration (UCC) technology. Long gone are the days of face-to-face interactions with co-workers. Today, co-workers and teams can be located anywhere around the globe, making UCC applications like Zoom or Teams critical for keeping in touch.
Running UCC applications on a remote desktop can be problematic since they consume lots of resources, and network traffic has to be routed through the data center where the remote desktop is located, even if the person we are communicating with is right next door. These factors can make UCC applications, which need real-time responsiveness, problematic.
Various technologies and techniques have been devised to address issues with UCC applications running on remote desktops. The most effective is offloading those applications and streaming web content from the remote desktop to the thin client. This process is referred to by different names, but we will refer to it as media redirection for this article.
Media redirection makes UCC applications more responsive and frees up the hardware resources (e.g., CPU, RAM, and networking) from the server where the remote desktop is located, allowing more desktops to be run on a server. Moreover, increasing guest density lowers each remote desktop's hardware requirements and costs.
Media redirection does require the hardware and software to support it. While moving from expensive server hardware to less expensive client hardware makes economic sense, it requires the client to have the capacity to handle it. HP had functionality like this in mind with the t655, given its quad-core processor, embedded GPU, and up to 32GB of RAM. The software also needs to support media redirection, which IGEL OS supports for VMware Horizon, Citrix, and other remote desktop technologies.
Companies and individual users demand that our devices be as green as possible; we have heard from more than one CTO that one of their top-line initiatives is to support greener technology. To align with this environmental focus, the t655 case uses 45 percent post-consumer recycled plastic, and the packaging is made from recyclable cardboard rather than foam. Decisions like these have earned it an EPEAT ecolabel rating.
Finally, we see new players in the remote desktop marketplace, with Microsoft Azure Virtual Desktop and Windows 365 (W365) as the biggest. IGEL supports both technologies and even offers an IGEL OS Cloud PC Edition, a pre-configured version of IGEL OS optimized for Windows 365 Cloud PC.
HP Elite t655 Thin Client Overview
The HP t655 thin client is geared towards power and knowledge workers that use up to three 4K monitors.
To give a brief overview of its specifications, the t655 is a small, thin client with multiple USB and video ports and is powered by a next-gen AMD Ryzen Embedded R-Series processor. It also has an NVMe drive and native support for up to three UHD/4K displays. It has advanced security features such as AMD Memory Guard and a NIST SP800-193 component to ensure that the data on the device is as safe as possible.
In addition to supporting all the major VDI environments, it also supports HP Anyware and up-and-coming technology like Azure Virtual Desktop (AVD) and W365.
The market for VDI clients that are both powerful enough to run multiple 4K monitors and affordable for wide-scale deployment is becoming more critical as many companies have adopted a WFH policy or need to house the servers, workstations, and data that users need to connect to in a separate location for security and environmental (heat and sound) reasons. Users needing multiple 4K displays tend to work in industries such as media and entertainment (M&E), financial, product design, engineering, and healthcare.
In this review, we will give an in-depth overview of the t655 specifications, design and build quality, and a summary of the testing we carried out. We will then lay out the key findings from those tests, provide our thoughts about the device, and briefly discuss who would benefit from using this product.
HP Elite t655 Thin Client Specifications
Below are the specifications of the t655 VDI client we used in this review. Other configurations of the t655 are available.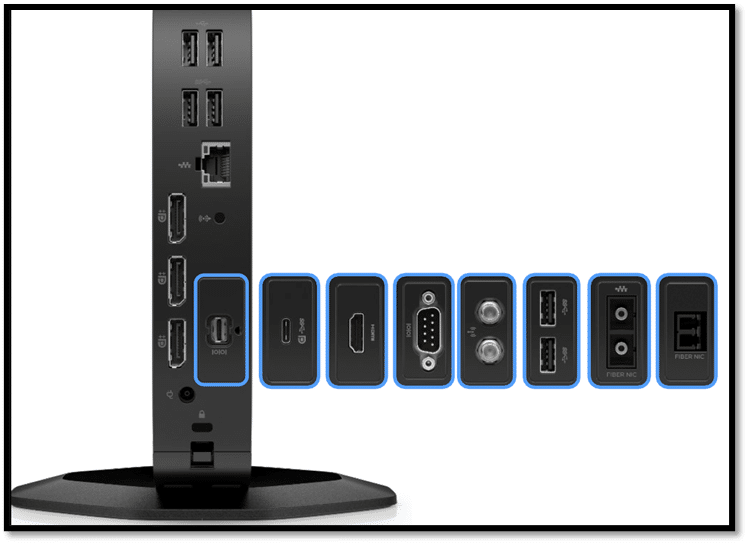 Manufacturer:
HP
Model:
HP t655
Part number:
M98106
MSRP:
N/A
Client type:
Desktop thin client
Form factor:
Small desktop
OS:
Windows 10 IoT Enterprise 2021 LTSC, HP ThinPro, IGEL OS
Reviewed with:
IGEL OS
Supported remote display protocols:
Microsoft RDP; HP RGS; VMware Horizon RDP/PCoIP, Blast Extreme; Citrix ICA/HDX, AVD, and Win365. Not all OSes support all protocols.
CPU
AMD Ryzen Embedded R2314 with Radeon Graphics (2.1 GHz base clock, up to 3.5 GHz max boost clock, 2 MB L2 cache, 4 cores, 4 threads)
GPU
Embedded R2000 GPU
Memory
2 SODIMM slots (max memory – 32GB DDR4-2667 SDRAM)
Reviewed with two 16GB Samsung M471A2G43AB2-CWE DDR4 SODIMM
Storage
32 GB up to 512 GB NVMe flash memory
Reviewed with Micron 256GB MTFDKBA256TFK GB NVMe drive
Speaker
Internal amplified speaker system for basic audio playback
Display
Up to 3 displays with three DisplayPort 1.2 video outputs
Power
45 W smart external power adapter
Ports
3 SuperSpeed USB Type-A 5Gbps
3 SuperSpeed USB Type-A 10Gbps
1 3.5mm audio jack
1 audio-in/out
1 RJ-45
3 x full-size DisplayPort 1.2
1 x DC power
Other optional ports available
LAN network connectivity options
Realtek RTL8111EPH with DASH support
Realtek RTL8111HSH without DASH support
Allied TelesisAT-27M2/SC-AA Fiber NIC 100FX
Allied Telesis AT-29M2/LC-AA Fiber NIC 1000SX
Allied Telesis AT-29M2/SC-AA Fiber NIC 1000SX
WLAN network connectivity options
Realtek RTL8852AE 802.11a/b/g/n/ax (2×2) Wi-Fi and Bluetooth 5.2 wireless card
Realtek Wi-Fi 6 RTL8852BE 802.11a/b/g/n/ax (2×2) and Bluetooth 5.3 wireless card
RJ45 – Realtek RTL8111HSH Gigabit Ethernet (GbE) controller with support for DASH out-of-band remote management
Intel Wireless-AC 9260 Wi-Fi/Bluetooth combo
2×2 802.11ac Wi-Fi and Bluetooth 5
Physical size
1.38 x 7.87 x 7.87 in; 3.5 x 20 x 20 cm
Physical weight
2.5lb; 1.12kg
Color
Black
Keyboard
HP USB 320K wired keyboard
Mouse
HP Wired 320M mouse
Compliant Standards
UL, CSA, FCC, Energy Star, EPEAT 2019, and many others
Package contents
t655, Power Adapter, HP mouse and keyboard, base stand, warranty, and setup guide
1 & 3-year parts and labor warranty available
The expansion port on the back of the device can be configured for these different options
1 HDMI
1 VGA
1 dual serial
1 fiber NIC
1 SuperSpeed USB Type-C® 10Gbps signaling rate (USB Power Delivery, DisplayPort™)
2 SuperSpeed USB Type-A 5Gbps signaling rate
1 fiber NIC (LC/SC connector); 1 power serial
1 configurable power serial
1 external antenna port
HP Elite t655 Thin Client Design and Build
The cardboard shipping box that the device came in was heavy and well-designed, and the device itself was nestled between two cardboard stands and wrapped in a plastic bag. The keyboard was in a cardboard box, and the mouse was in a plastic bag. The box also contained a power supply, a warranty and setup guide, and the base stand.
We were impressed by the use of recyclable cardboard and the lack of plastic wrapping. The amount of plastic used for shipping was minimal.
The front of the device has a power-on button with indicator lights, SuperSpeed USB Type-A 5Gbps and SuperSpeed USB Type-A 10Gbps ports, and a 3.5 mm audio jack.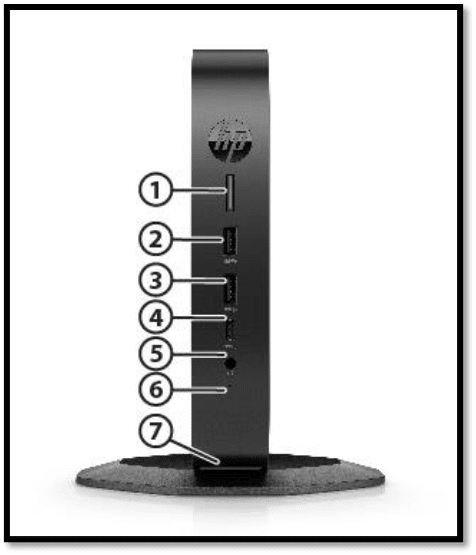 The back of the device has several ports, including audio-in/out, an RJ-45, two SuperSpeed USB Type-A 5Gbps, two SuperSpeed USB Type-A 10Gbps, and three full-sized DisplayPort 1.2. The expansion slot in the back of the device had a SuperSpeed USB Type-C 10Gbps (USB Power Delivery, DisplayPort) port, but other options are available.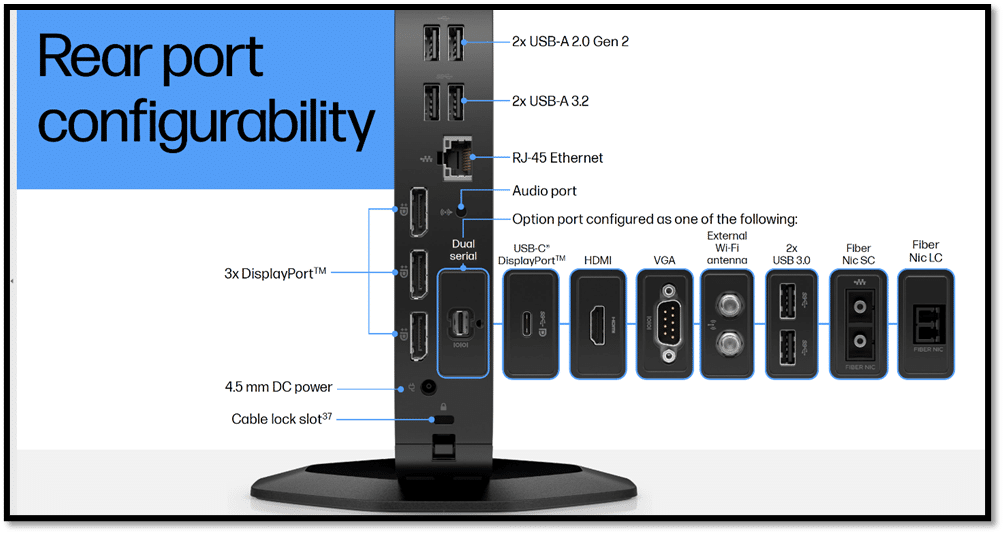 The back of the device can be removed by pressing a latch and removing the back cover.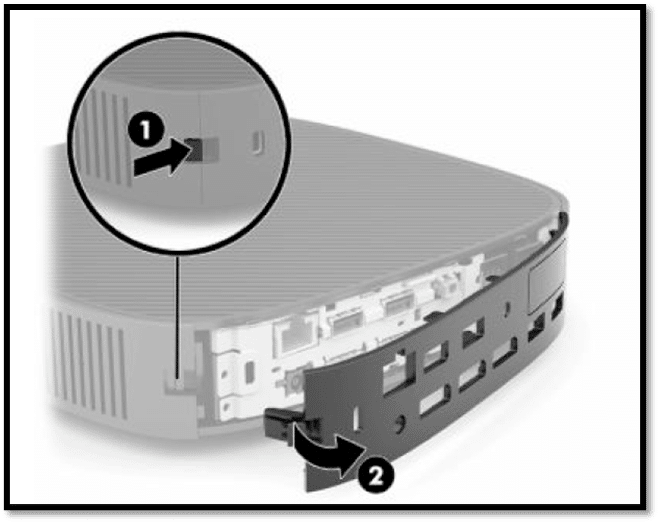 The left side of the device has a cover that can be removed to display the device's certifications, regulatory labels, and serial number. The serial number will be needed if you need to contact HP customer service for assistance. This also revealed a standoff that can be used with a VESA 100 mounting bracket.
If you want to use the device in a vertical position, a stand (included) can be attached to it.
The right side of the device can be removed to expose the motherboard. Since it does not have a fan, a heat pipe keeps it cool. The M.2 NVMe drive and other exchangeable components are easily accessible. The m.2 drive has a heatsink that sits on top of it when the cover is on it. The RAM is covered with a perforated metal case.
The entire case is black plastic with ventilation slots on the top and the bottom. The case is well-made and designed with serviceability in mind. It can be wiped down with common household cleaning wipes, which is essential if the device is used in a healthcare setting.
The device uses an AMD Ryzen Embedded R2314 process with 4 cores and 4 threads. The processor has a base frequency of 2.1 GHz and a boost frequency of 3.5 GHz. The processor has an integrated Radeon Graphics R2000 Vega GPU with 384 shader cores and a max frequency of 1200 MHz.
We were pleasantly surprised with the quality of the keyboard and mouse that came with the device. Usually, if a keyboard and mouse are included with a VDI client, they are of acceptable but unremarkable quality; however, the keyboard that came with this device was of better-than-average quality.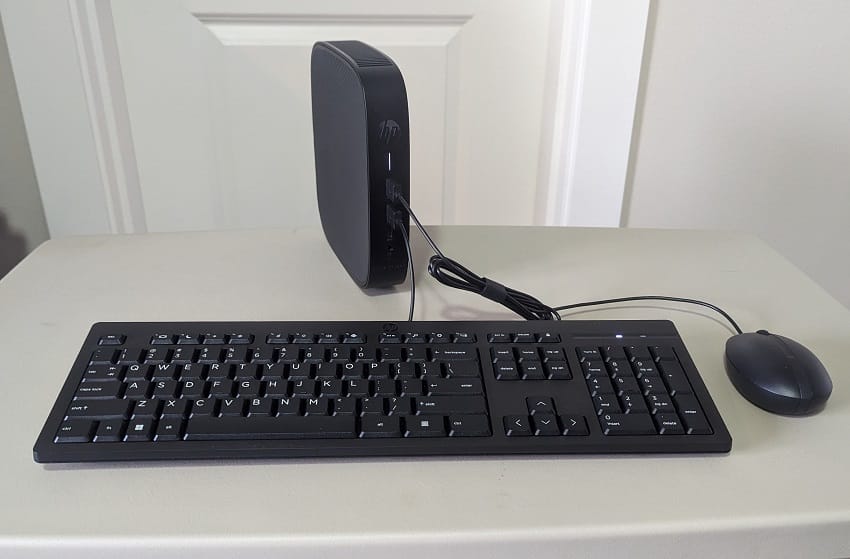 IGEL OS
The device came pre-installed with IGEL. We have worked with IGEL OS in the past (see Perfect Pairing: IGEL and LG All-in-One Thin Clients,  Perfect Pairing: IGEL and LG All-in-One Thin Clients, and IGEL UD2 Thin Client Review), and we were impressed with its performance, wide range of supported VDI protocols, and overall polish.
HP Monitors
The real test of a virtual desktop client is its usability. We used the t655 client in our Pacific Northwest lab for two weeks with various configurations.
For our testing, HP was kind enough to provide us with an HP E27q G5 27" QHD monitor and an HP E27u G5 monitor. Although these monitors are only 2K rather than 4K, we felt they would be typical of the type of monitor most companies would choose to deploy with the t655.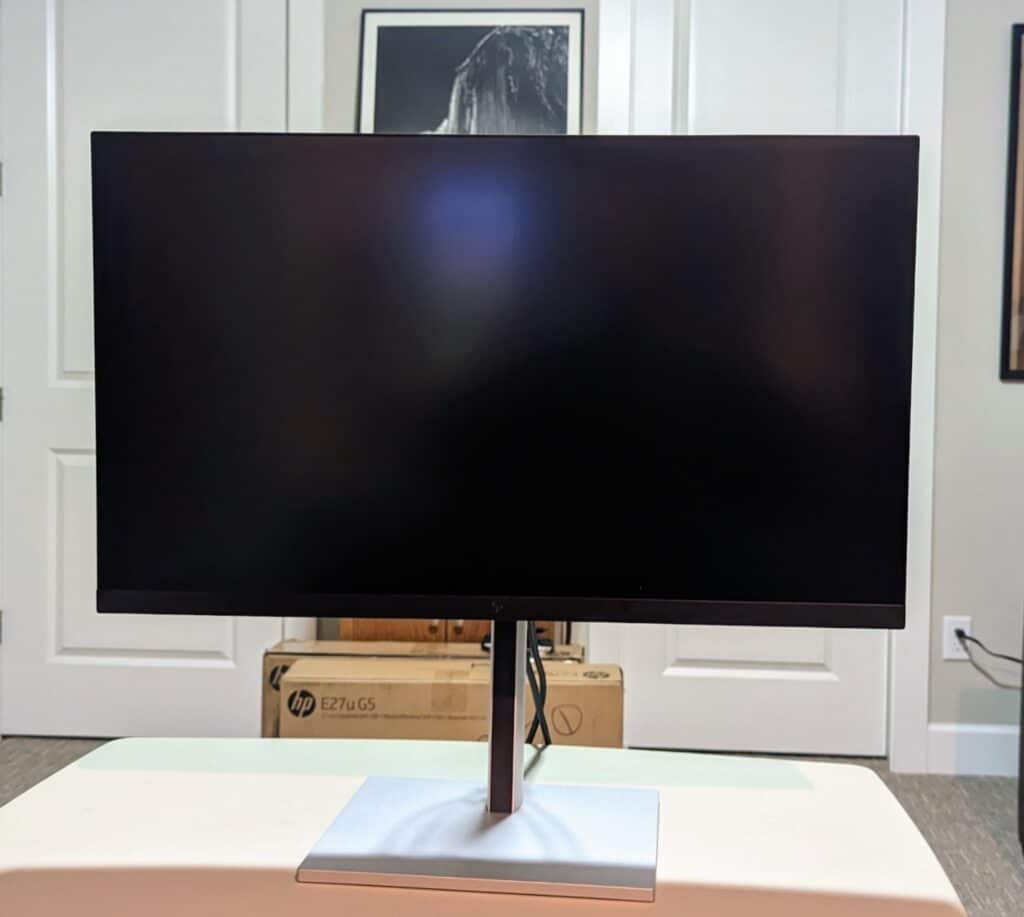 Both monitors have a native resolution of QHD (2560 x 1440), a contrast ratio of 1000:1, a display contrast ratio (dynamic) of 8000000:1, a brightness of 350 nits, and a typical response time of 5ms GtG. The only difference between the two is that the E27u can also connect via a USB Type-C (which can supply up to 15W USB power to the attached device), while the E27q only supports HDMI and DisplayPort for connectivity.
The monitors have a low blue light filter that reduces blue light exposure with zero impact on true color accuracy of the monitor. They were built with the environment in mind as their plastic components consist of over 80 percent recycled materials and have 100 percent sustainably sourced and recyclable packaging. It is ENERGY STAR certified, and EPEAT registered.
The monitors came with connection cables, a warranty card, a quick setup poster, and an AC power cord.
Configuring IGEL
We plugged the device into our lab's wired network and then attached the keyboard and mouse that came with the device. We attached the device to the HP E27u monitor using the USB-C port.
We connected it to our network via a Cat 6 cable through the device's RJ45 port. The client was connected via a 1GbE network with a single switch to a server hosting our local Horizon virtual desktop. We monitored the network during our testing to ensure no other traffic was present.
We powered on the device by pressing the power button on the front. We saw an HP splash screen, and after the machine had booted, we were presented with a wizard that allowed us to configure IGEL OS with things like the language and keyboard.
During the configuration process, we were given the option to use either a starter or full-feature demo license. The starter license lasts 30 days and does not require registration; however, it does not contain the Multimedia Codec Pack, unified management assistant (UMA), or mobile device management (MDM).
We chose to get the 90-day demo license as it includes various codecs. After filling out a form that requested our name, company, etc., we were told that our license had been "fetched" and that the device needed to be rebooted.
Setting Up a Horizon Connection
After the system rebooted, we set up a connection to a Horizon TestDrive desktop. To do this, we clicked the wrench (settings) icon on the left side of the taskbar and clicked Sessions > Horizon Client > Horizon Client Global. From here, we configured our Horizon session to use VMware Multimedia Redirection, Real Time Audio Video (RTA), HTML5 multimedia redirection, Microsoft Teams optimization, and the Zoom VDI media plugin.
We then clicked Horizon Client Sessions, which allowed us to set up our Horizon connection. Horizon can use RDP, Blast, or PCoIP for the connection protocol, but we chose to use Blast. The Horizon Client was version 2203, which will work with both Horizon 7 and 8.
After configuring the Horizon connection, it placed an icon on the desktop and in the Start menu.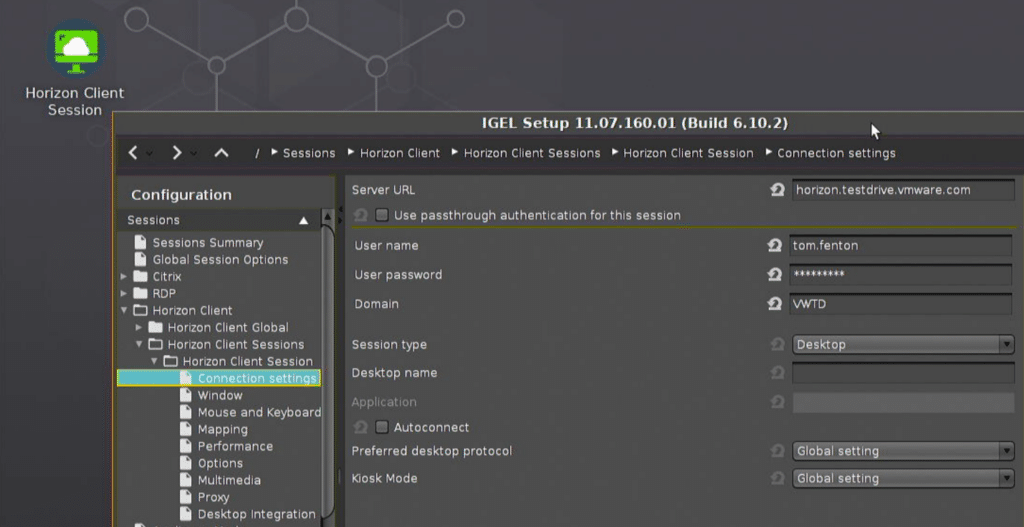 Device Configuration
Before conducting our usage testing, we wanted to get a better feel for the completeness of IGEL by exploring its menu. We first accessed the device's settings by clicking the settings (wrench) icon in the lower left-hand corner of the toolbar.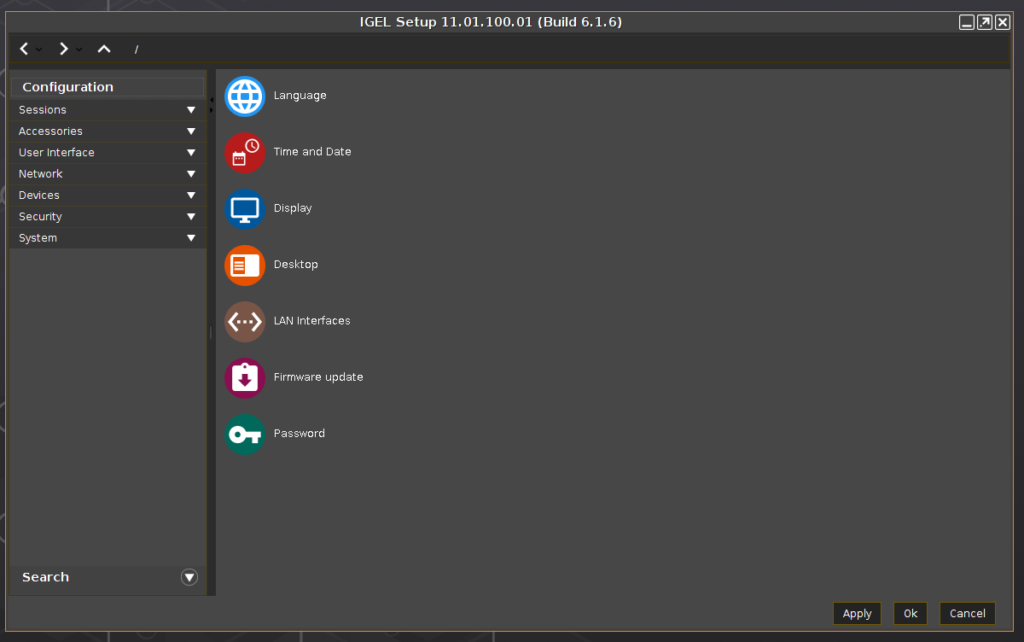 The Configuration pane has many different drop-down menus, including Sessions (to configure VDI connections), Accessories, User Interface, Network, Devices, Security, and System. We explored some of these areas, and while doing so, we noticed that it was running IGEL version 11.07.160.01.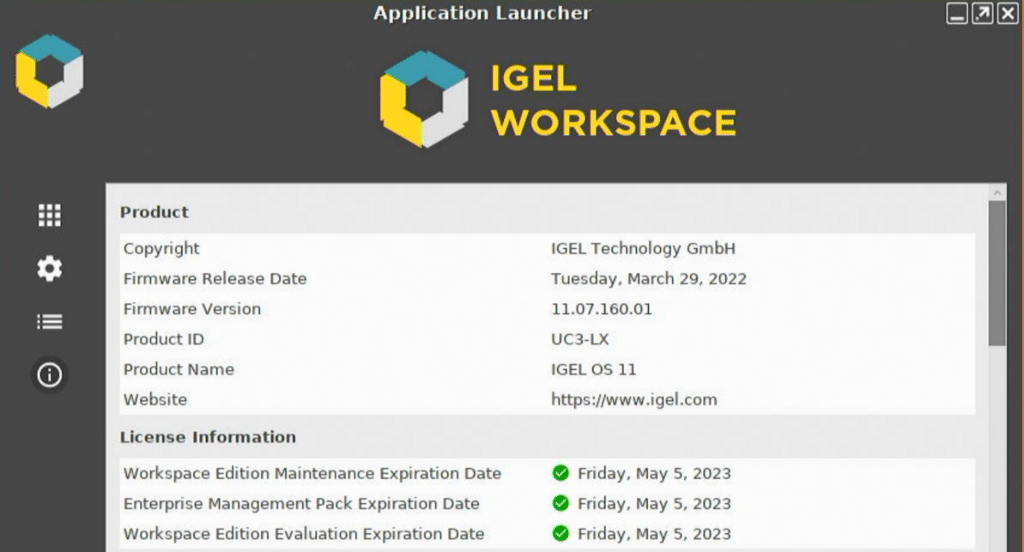 We wanted to see how well third-party integrations worked with IGEL, and since we needed to monitor the performance of the device and remotely access it during our testing, we installed the ControlUp Edge DX agent on it. We did this from the IGEL customization menu. After we configured it, the device appeared on the Edge DX portal.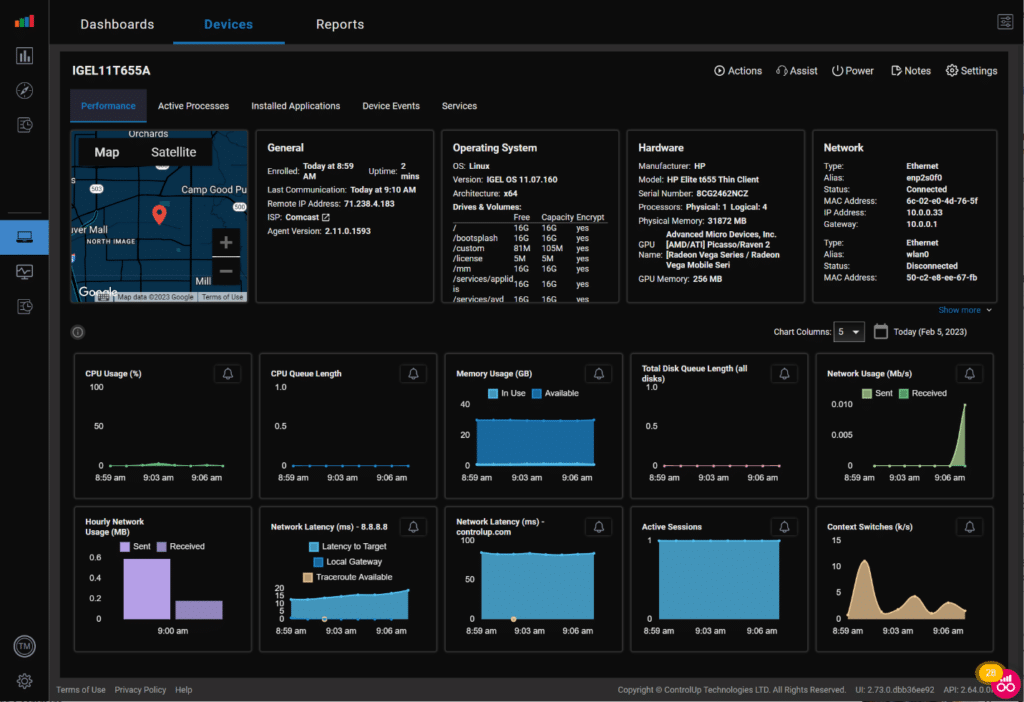 Testing a Cloud-Based GPU Enabled Virtual Desktop
In the early days of VDI, its user base mainly consisted of task workers who used one or two office applications. Now, we are seeing companies using applications that require GPUs. To see how well these worked, we used VMware TestDrive to connect to a GPU-enabled desktop and then ran video-intensive applications.
We played a high-definition video from a web browser on the virtual desktops.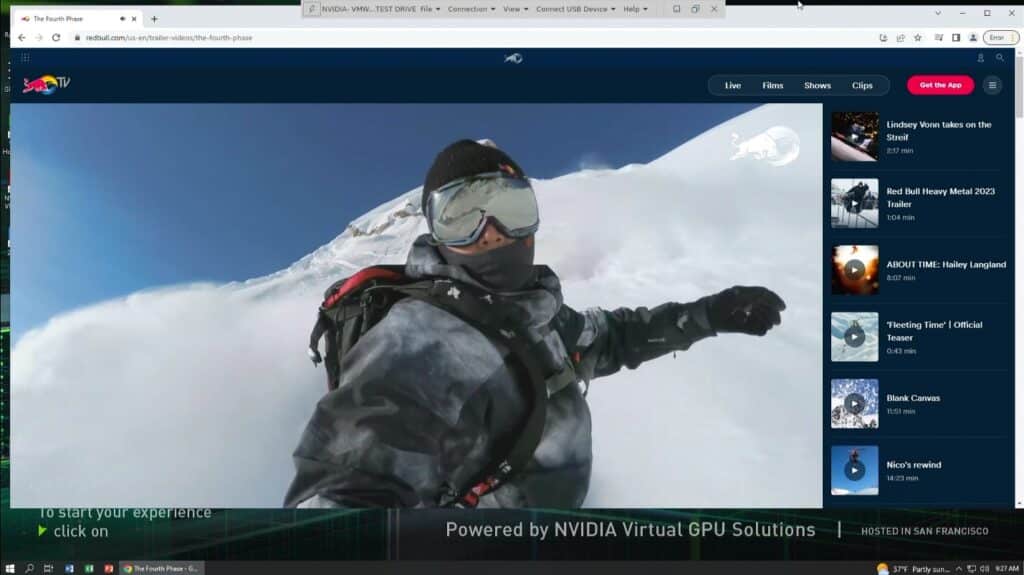 The CPU on the client reached 11 percent, and around 1.5Mbps of data was being transferred. The audio and video played flawlessly, and even though the monitor only supports QHD (2560 x 1440), the output looked fantastic on the HP monitor.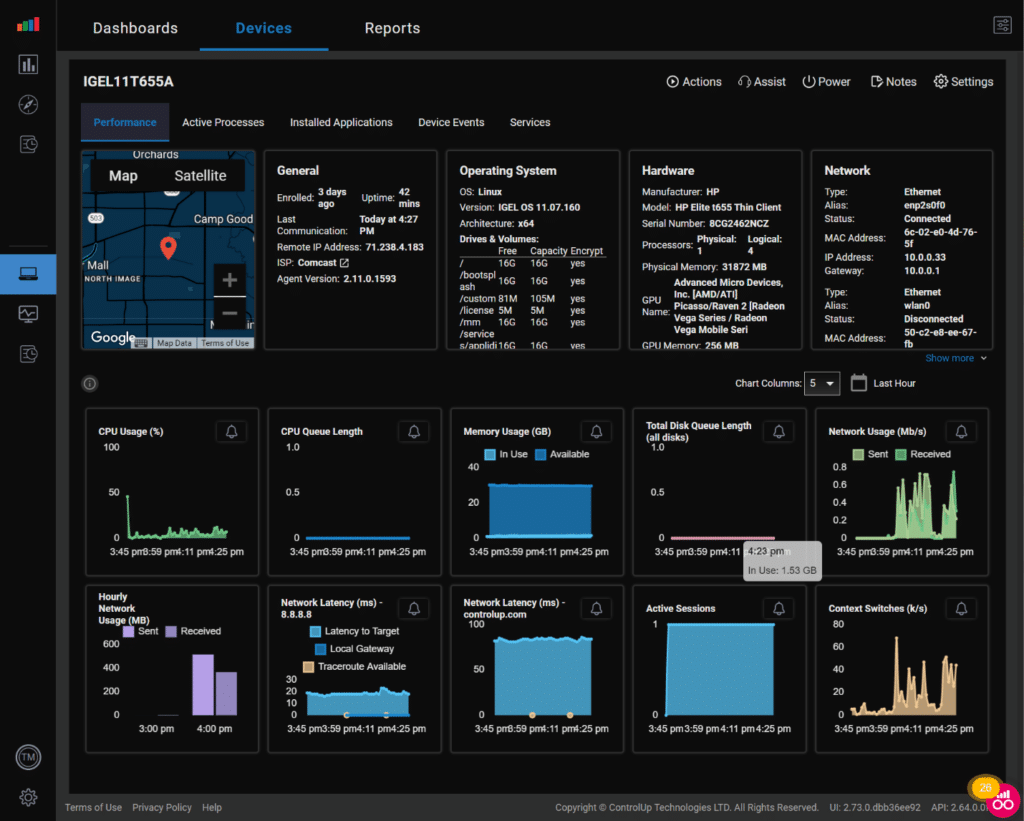 We then brought up a CAD model of an engine in Dassault eDrawings PRO. We could manipulate, rotate, and slice it in real-time without pauses or disruptions. The CPU usage was less than 5 percent, but the network reached 5 Mbps.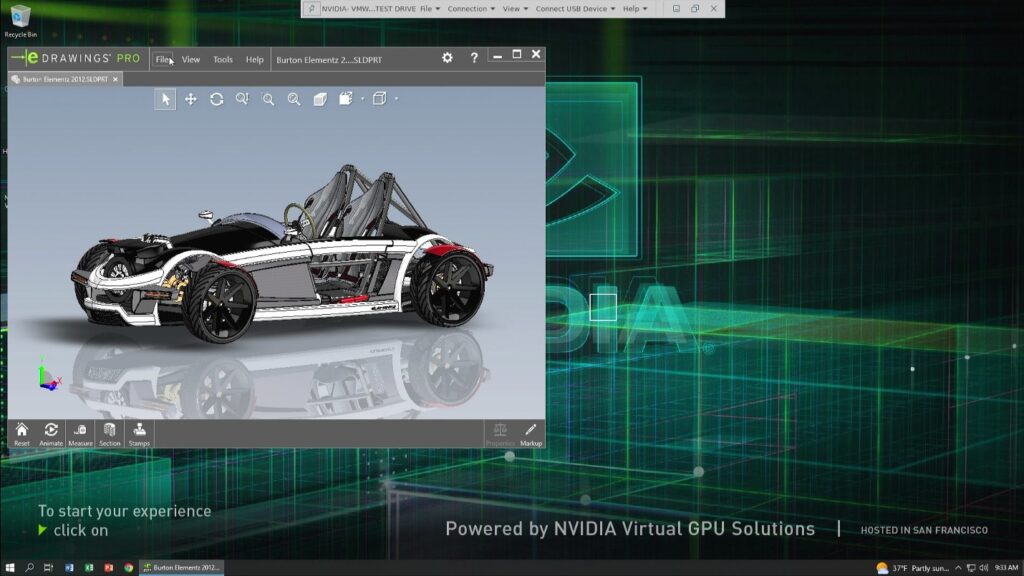 For our last GPU test, we used Google Earth Pro. The CPU usage was 3 percent, and the network was 8 Mbps. We had the same experience using Google Earth on the client as on a local system.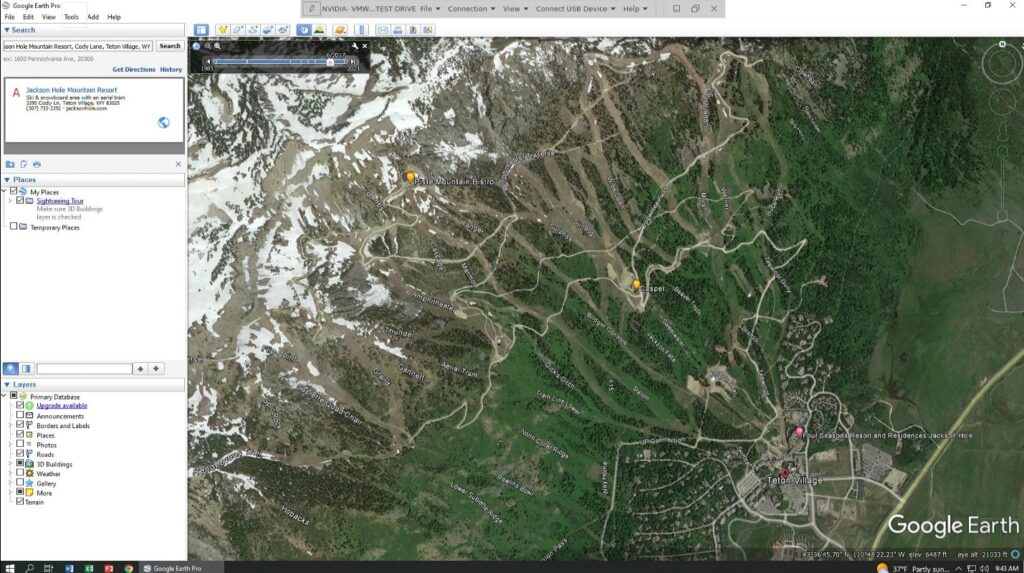 Usability
As mentioned, we used the client for two weeks as a personal desktop to test its usability. Below is an overview of the testing we did during this time and the key results.
During this testing, we used a virtual desktop running Windows 10 (2004) and was hosted on a local vSphere server. It had 2 vCPUs, 8 GB of memory, and 50 GB of NVMe-based storage. For our testing, we set the virtual desktop's display size to the HP monitor's native resolution of QHD.
We first used VLC to play a video (1720×720 @24 fps) stored on the virtual desktop in full-screen mode. The video played with a few jitters. Edge DX showed that about 8 percent of the device's CPU and 1.25 GB of RAM were being used, while the virtual desktop showed more than 90 percent of its CPU was being used. This indicated that the jitter was coming from the virtual desktop, not the client and that the client could handle a demanding load from a virtual desktop without stressing its resources.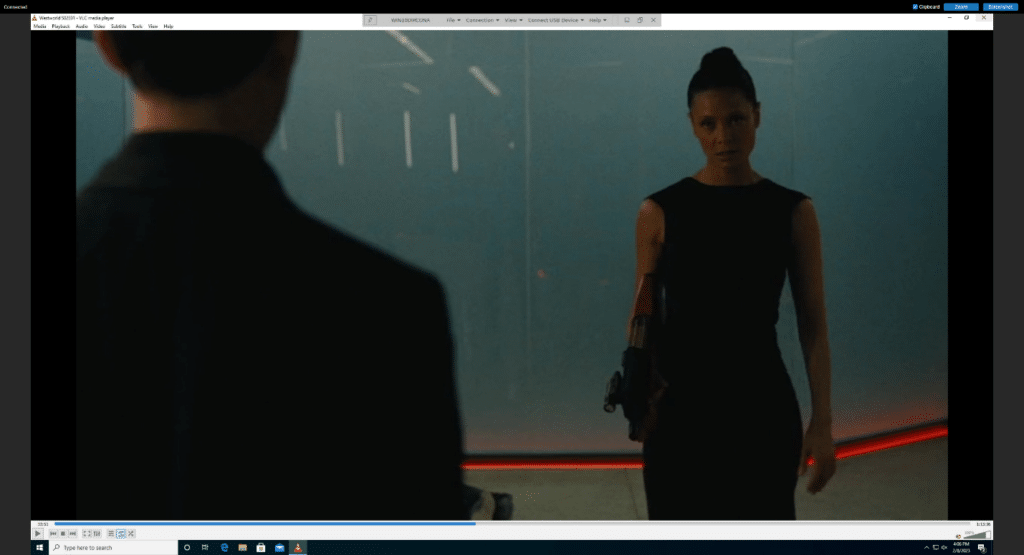 We connected a Jabra Voice 150 USB headset to test the device further. It was discovered by the virtual desktop and worked as expected.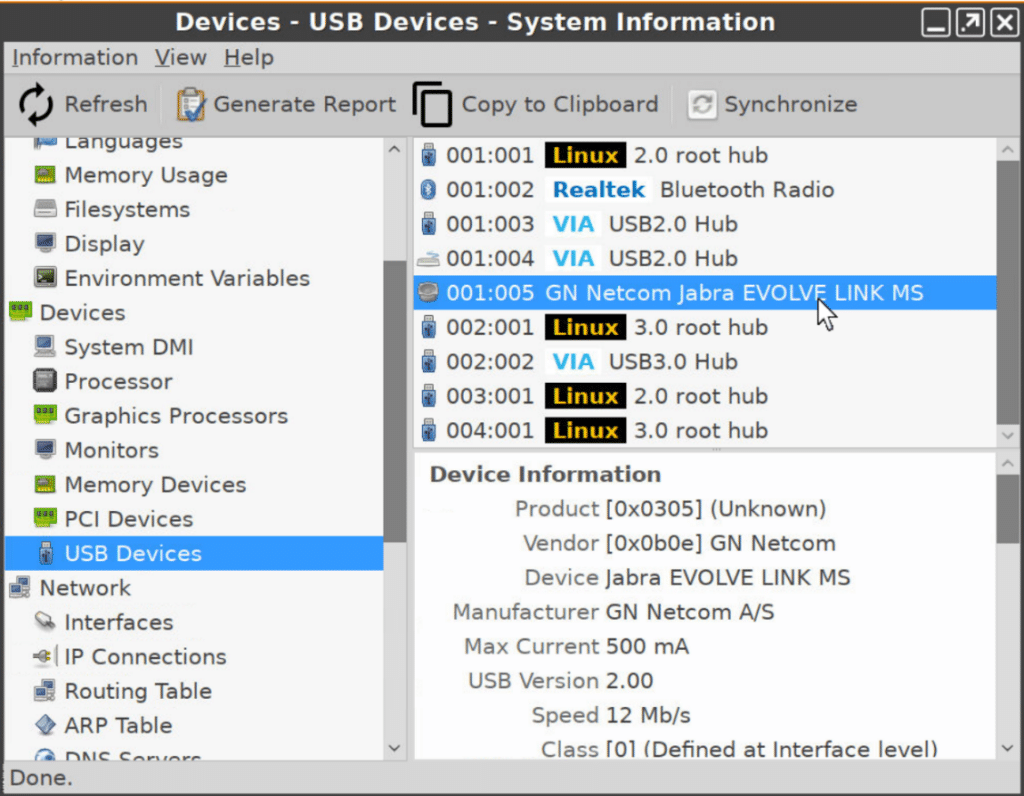 Over the two weeks, the device was used for daily activities, such as using Microsoft Office applications, Chrome web browser, streaming music, and other common tasks. During this time, the device performed without any issues.
Dual Monitor Configuration
It's not uncommon for users to have multiple monitors. To test how well the device handles a dual-monitor setup, we hooked up the HP 27u G5 monitor to the client through DisplayPort. IGEL immediately recognized the monitor, and we configured the second display in portrait mode.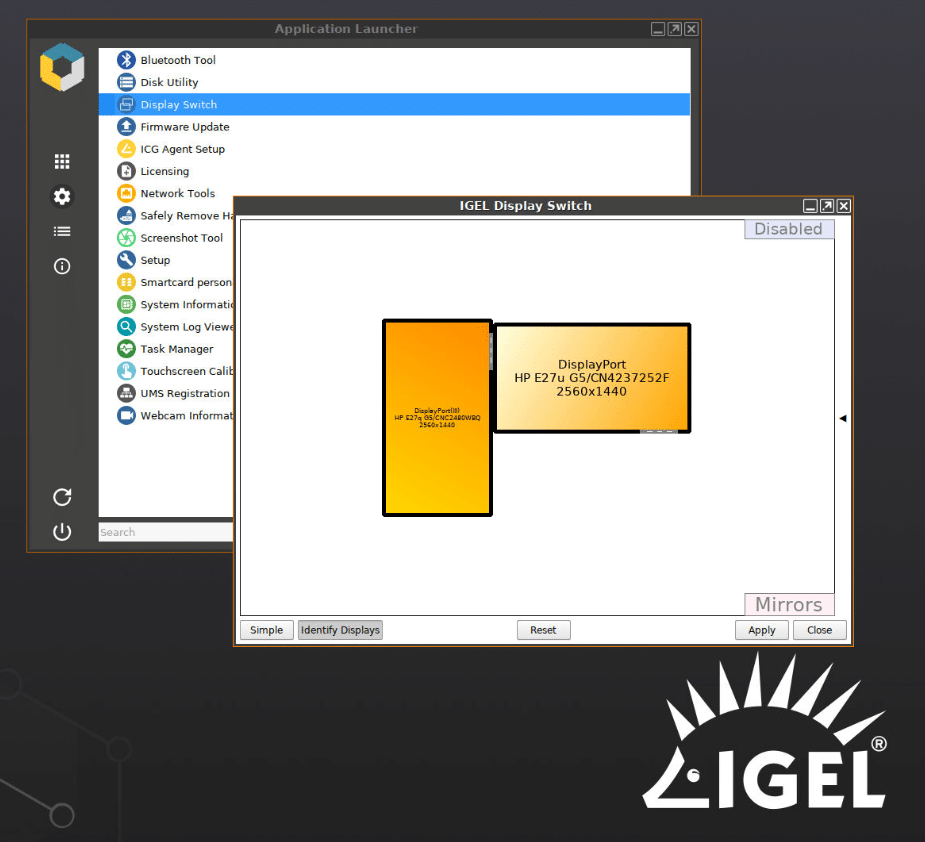 On the portrait monitor, we displayed a VMware TestDrive Horizon desktop; on the other, we displayed our local Horizon virtual desktop. We played different videos on each of the monitors in half-scale mode at the same time. Both videos played without any jitter, and Edge DX showed that only about 12 percent of the client's CPU and 1.3GB of RAM were being used.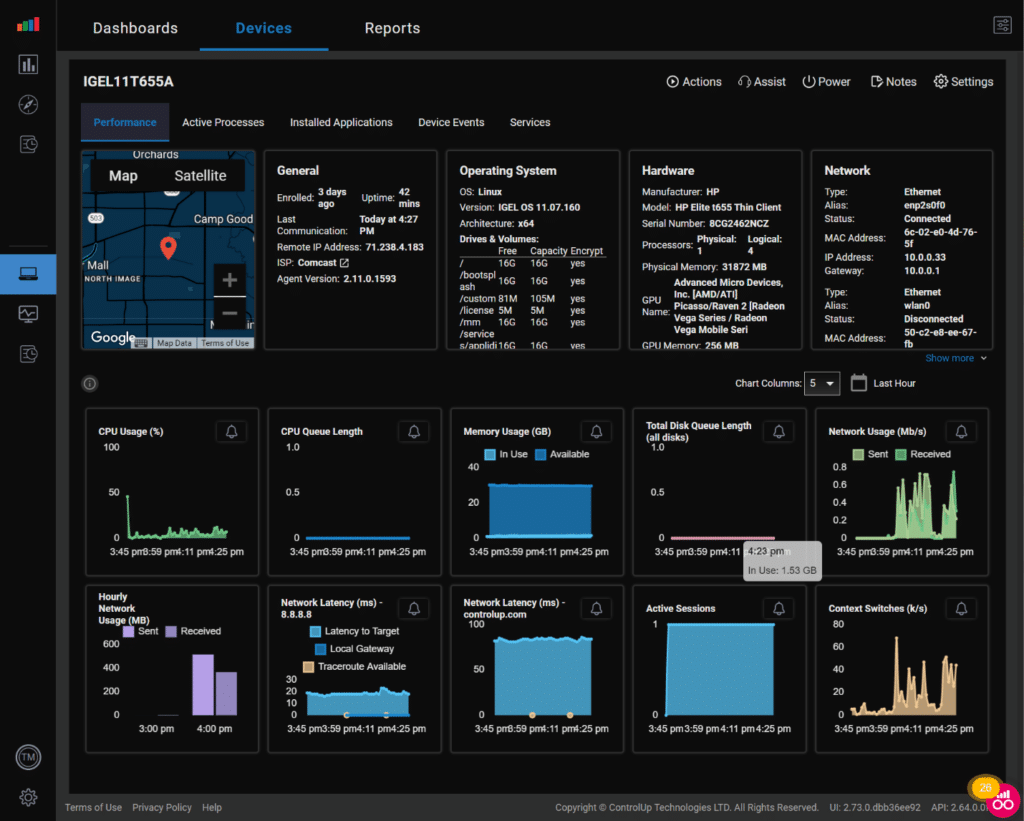 IGEL UCC
IGEL supports UCC applications such as Zoom, WebEx, and other audio/video communication products in three different ways: you can run them natively on the device, you can run them in the virtual desktop, or you can redirect them from the virtual desktop to run natively on the client. The diagram from IGEL explains how redirection works.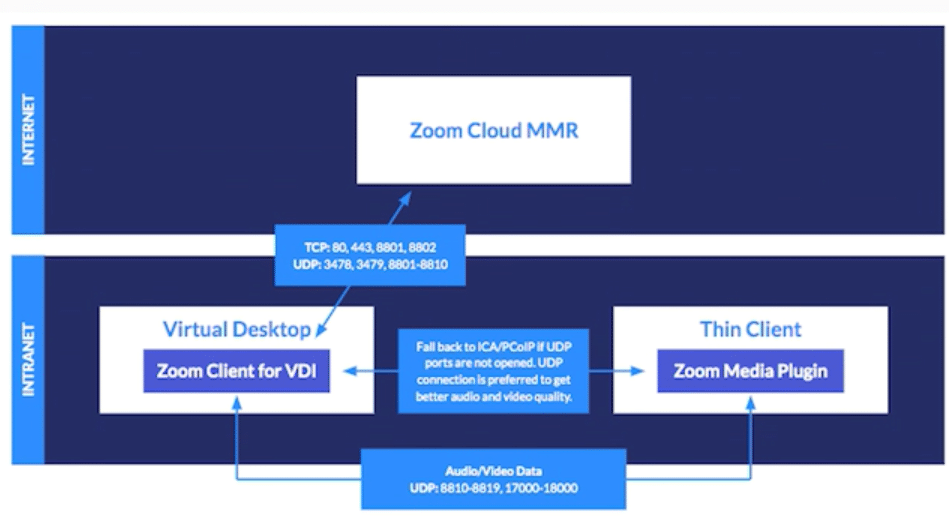 It must be noted that IGEL supports redirection for UCC and other applications like web browsers.
We tested UCC redirection using Zoom. We plugged our Logitech C920 video camera into a USB port. We entered lsusb from the Edge DX remote shell; this showed that the device was found.

We then launched the IGEL Webcam Tool and set the resolution and framerate of the camera.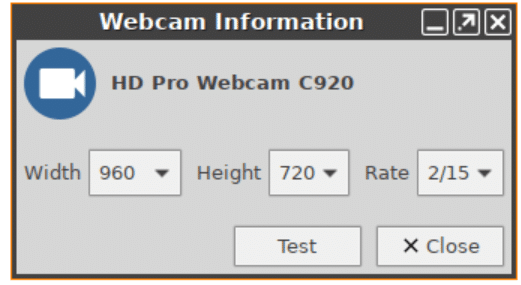 We needed to install Zoom for VDI on the virtual desktop to use redirection with Zoom. The Zoom redirection package for IGEL comes preinstalled.
We then initiated a Zoom session and had the same experience as using Zoom on a standalone system.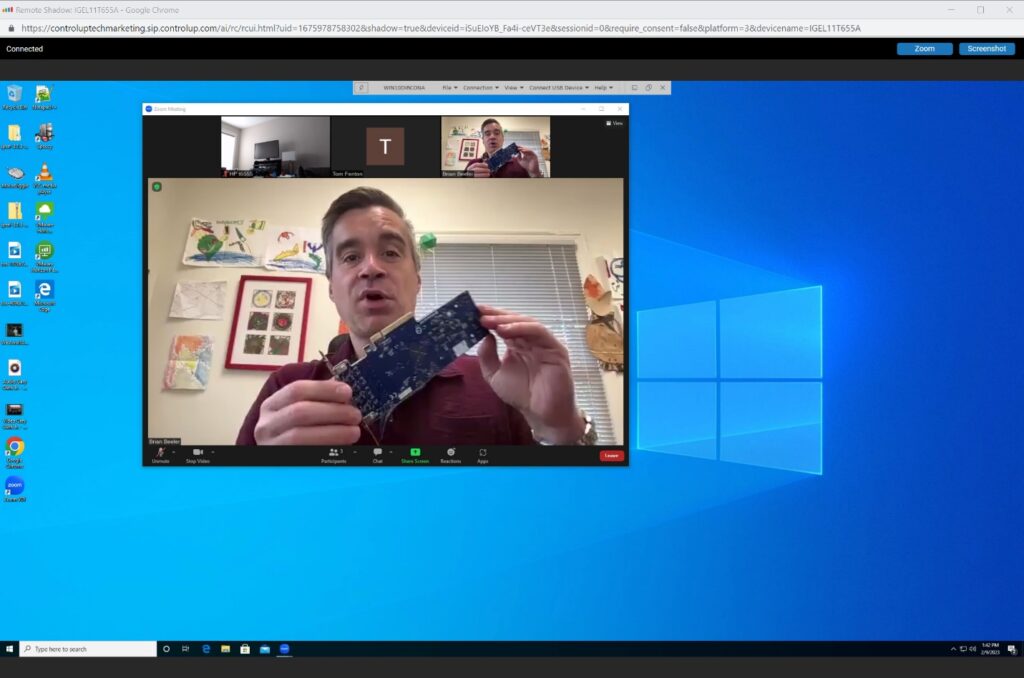 Listing active processes verified that the Zoom meeting was redirected and was running on and using the resources of the HP client rather than the virtual desktop.

Edge DX showed no issues when we monitored the call in real-time.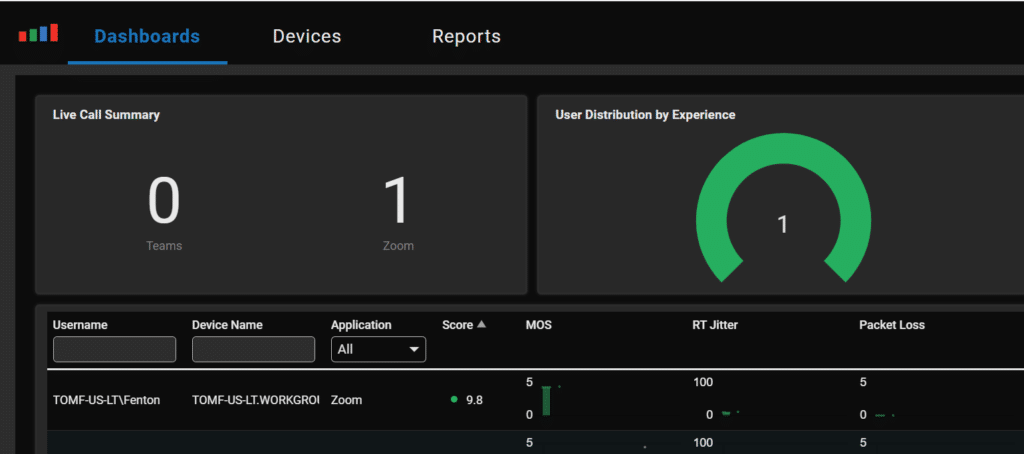 The Edge DX UC dashboard showed that the t655 performance was excellent during the call.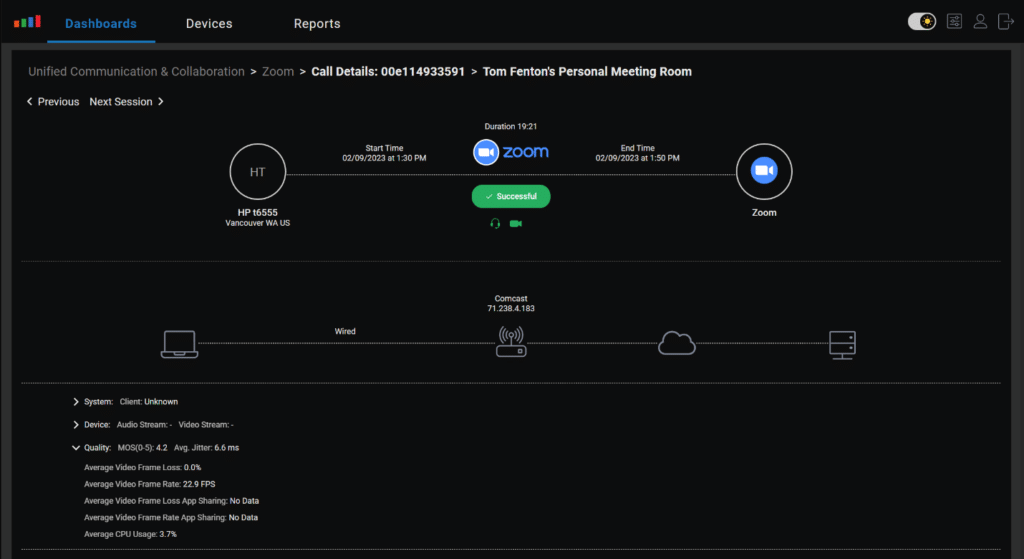 While UCC applications are becoming a mainstay for workers, they can be resource intensive; however, by using redirection, the processor on the thin client is being used rather than that of the virtual desktop. This requires the client to have software to support it and a processor powerful enough to handle the additional load. IGEL could offload the process without any issues, and the client's processor was more than powerful enough to handle it.
Redirection translates into fewer resources being consumed by the host on which the virtual desktop resides and will yield higher virtual desktop density on the host.
Other Remote Protocols
IGEL advertises the device as working with VMware Horizon Blast, CITRIX HDX, PCoIP, and RDP. Still, we found that when adding a connection, a wide variety of other protocols were available, including Azure Virtual Desktop (AVD) and Amazon WorkSpaces.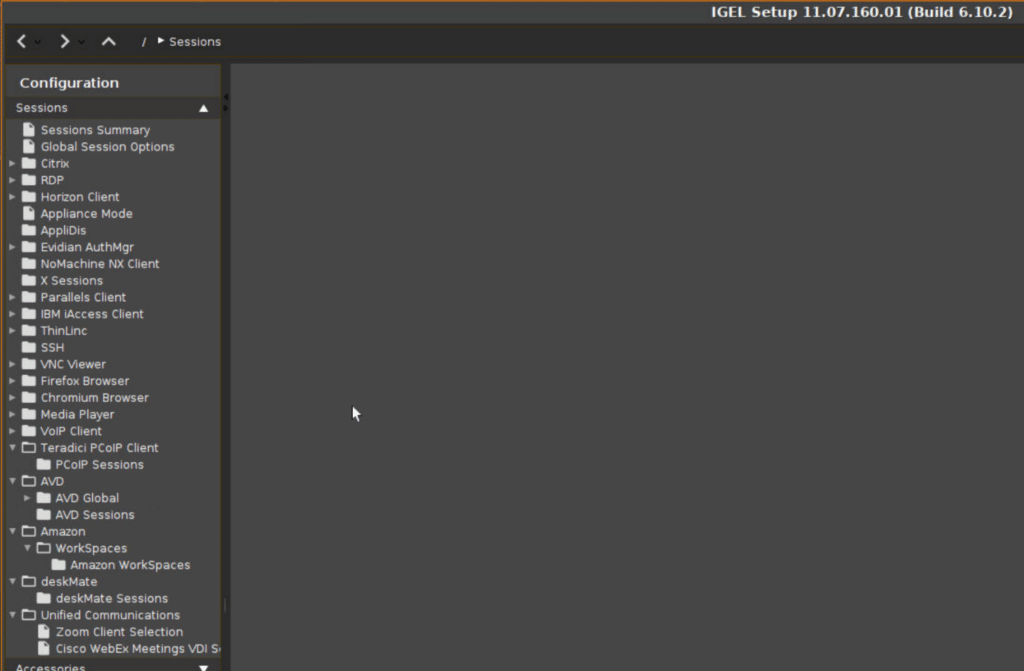 We connected to Linux and Windows 10 systems using SSH and a Windows 10 system using RDP without difficulty.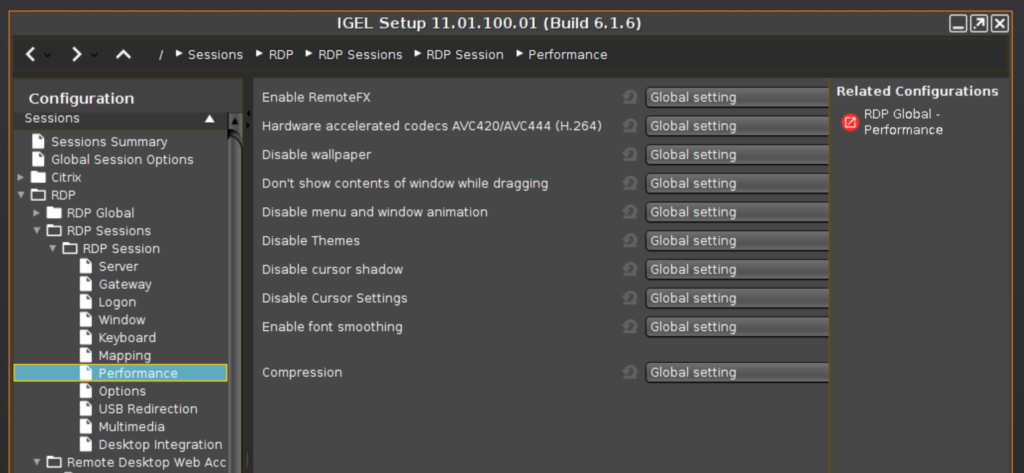 Screen Shadowing
Screen shadowing is a valuable feature as it allows you to see exactly what the user sees on their device. This is extremely helpful for IT support staff when helping users troubleshoot issues.
IGEL allows screen shadowing via VNC. We used this capability to capture many of the screenshots we used in this review. To avoid adversely affecting the client's performance, we did not use screen shadowing while monitoring the device's responsiveness.
We enabled screen shadowing by selecting IGEL Setup > System > Remote Access > Shadow.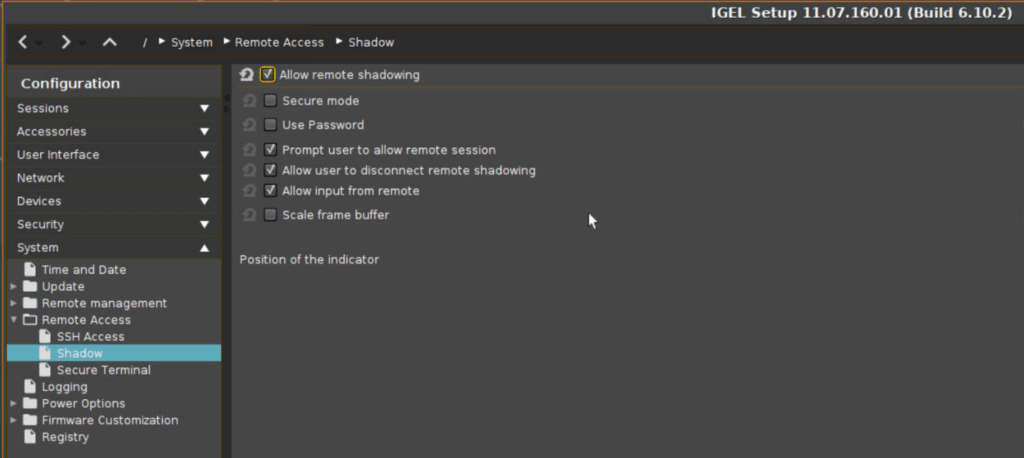 Device Management
The device can be used with HP Device Manager (HPDM) for centralized, server-based administration of HP thin clients. However, using HPDM is beyond the scope of this review.
Devices running IGEL OS can be used with IGEL Universal Management Suite (UMS), a tool to manage multiple VDI clients from a single portal. UMS can manage and control over 300,000 IGEL devices from a single pane of glass. UMS supports IGEL Cloud Gateway (ICG), a feature that allows it to work with IGEL devices regardless of if they are connected directly to a corporate network. With more and more companies embracing a "work-from-anywhere" philosophy, ICG is a huge advantage.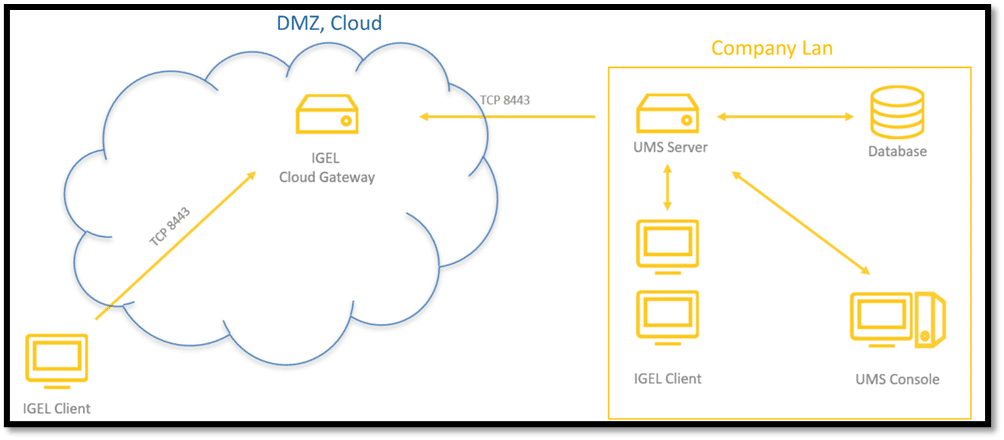 The use of UMS, however, is beyond the scope of this review.
Conclusion
HP made a lot of smart choices when designing the t655 next-generation thin client. To deal with the increased demands that we are placing on thin clients, HP equipped the t655 with a 4-core AMD Ryzen Embedded R2314 processor, 32GB of DDR4 RAM, and an NVMe drive for persistent storage. This enables the device to handle the workloads of today and the future, including UCC and video-intensive applications. The fit and finish of the device are top-notch, and the thought that went into the device by HP was apparent.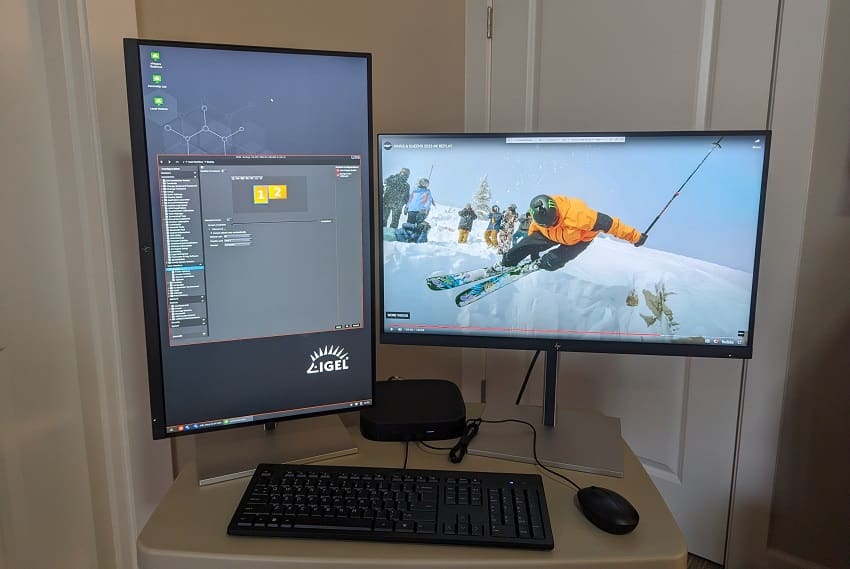 We pushed the device hard and found that it could handle anything we threw at it; using cloud-based GPU-enabled virtual desktop applications and a secondary 2K monitor didn't faze it. We found that we could use the local resources (CPU and RAM) on the t655 to run UCC applications natively on it. This gives the user a better experience while allowing greater virtual desktop density on the hosts.
With sustainability in mind, the client and monitor were shipped in a recyclable cardboard package without using foam-supporting blocks. The case of the client is made of 45 percent post-consumer recycled plastics, while the plastic case of the HP monitors is made of 90 percent post-consumer recycled plastics. After the device is no longer needed, users can participate in the HP Device Recovery program to ensure it is disposed of properly.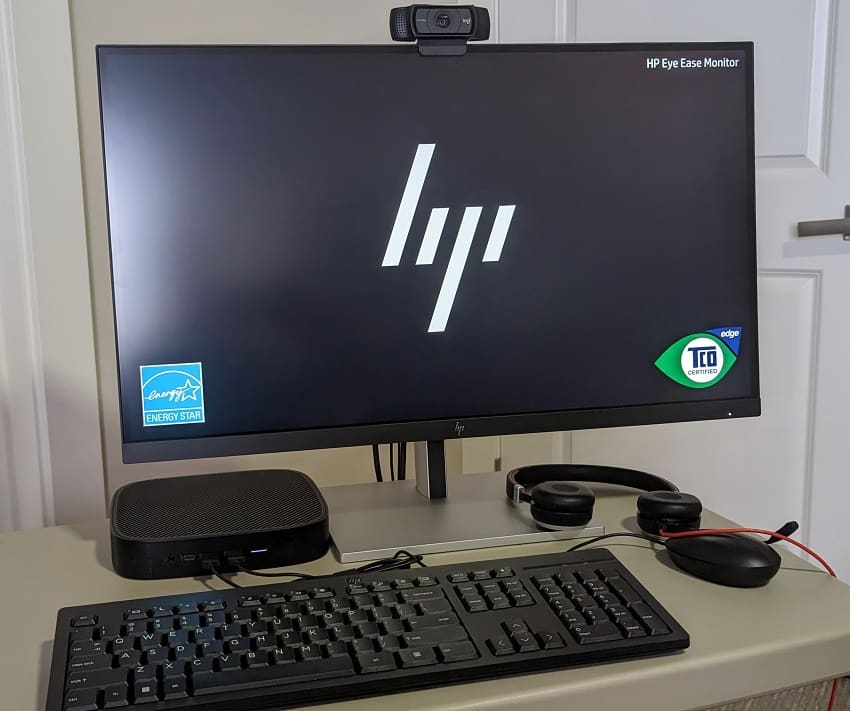 Security threats are common in today's workplace. To address this, HP and IGEL have included security features in this device, including AMD Memory Guard Secure Run technology that encrypts data in main memory, TCG-certified TPM version 2.0, and a system UEFI (BIOS). This and IGEL OSes place this system in the top tier of secure clients.
IGEL has a strong reputation and a loyal user base, and we were glad to see that IGEL comes preinstalled on HP thin clients as it lessens the burden on companies that want to use them.
In summary, the t655 is a very powerful client, and IGEL supports all the major VDI protocols as well as some niche and emerging ones. During our heaviest testing, the device performed admirably. It would make a fine VDI client for mission-critical users in healthcare, finance, and other industries where users have multiple 4K monitors and frequently use demanding applications.
– Tom Fenton is also employed by ControlUp.
Engage with StorageReview
Newsletter | YouTube | Podcast iTunes/Spotify | Instagram | Twitter | TikTok | RSS Feed